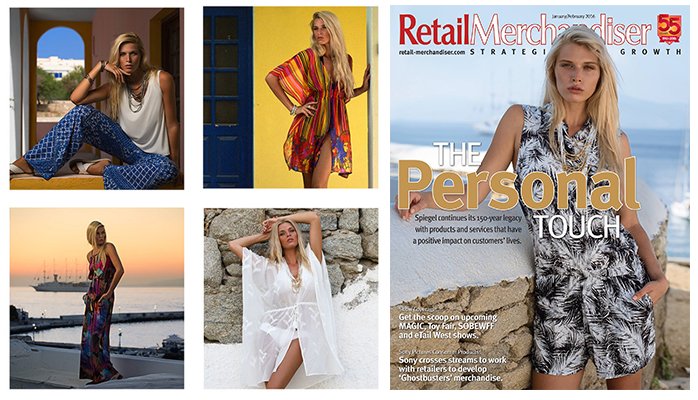 Spiegel marked its recent 150th anniversary by continuing its legacy of reaching out to customers with products and services that have a positive impact on their lives. By Jim Harris for Retail Merchandiser Magazine
 Spiegel has touched the lives of millions of people during its 150-year history. The company's close relationship with its customers extends back to its origins, but truly took a step forward in the early 20th century, when it became known for its extremely liberal credit policies. This included not charging interest for credit and extending credit lines that were quite large for their time.
Advertisements proclaiming "We Trust The People!" and "The People Should Get The Credit" attracted millions of Americans to order from its catalog, which at one point had more than 200 million copies in print.
 "Our customers built the company," International Creative Director Richard Lowe says. "People came to us because of our quality, and because of the credit we offered they were able to afford the goods they needed to provide for their family."
 Spiegel was founded as a furniture company in Chicago in 1865. Although the company, which began selling women's clothing in 1912, is known primarily today as a women's fashion retailer, it still hears from many of the customers who remember its earlier era.
 One customer letter that particularly touched Lowe was from a 92-year-old man who wrote of his family's personal experience with the company. "He wrote that he and his family were lifelong customers and stayed loyal because they bought Christmas gifts through our catalog that they otherwise wouldn't be able to afford without the credit," he says.
 The family was so loyal to Spiegel that one year they received a phone call from M.J. Spiegel, grandson of company founder Joseph Spiegel, when their Christmas order wasn't received. M.J. Spiegel led the company during the 1930s and 1940s. "The family had, in fact, placed their order, but it was lost in the mail," Lowe says. "Spiegel took their order over the phone, and even sent them extra gifts." This level of attention was common for Spiegel staff, which would regularly check in with customers when their orders weren't received to "make sure they weren't disappointed at the holidays," Lowe adds.
 The letter writer concluded his correspondence by asking for one of the company's vintage catalogs, a request Lowe quickly filled.
 Another example of the company having a direct impact on its customers came more recently, when it performed makeovers on 200 women on the syndicated TV series "The Doctors" in 2013. "Every woman had a story to tell about our company and how we affected their lives," Lowe says. "This really hit home for us that we don't just sell clothing or other merchandise – we sell memories."
 Out to Sea
The company – now based in New York City – continues to create positive memories for its customers, with more than 10 million people receiving its catalogs each year. Spiegel also offers online shopping as well as specialty stores, giving customers "Brick, Click & Catalog" access to its products. In addition to its own eponymous clothing line, the company also offers apparel under the Newport News and Shape FX brands.
 In 2015, the company made the Newport News brand available exclusively at retail shops managed by Starboard Cruise Services located on cruise ships including those operated by Carnival Cruise Lines, Holland America Line, Royal Caribbean International, Celebrity Cruises, Norwegian Cruise Line and Pullmantur. "The cruise ships wanted us," Lowe says. "We're selling at twice our forecasted rate, and all of our cruise line partners are very pleased with it. We've received pictures online of people wearing the clothes as soon as they buy them, which is a great compliment for us."
 The company also continues to branch out on social and traditional media. Spiegel recently began working with the Buzzr television network, a classic game show channel that is available as a digital broadcast substation in 30 U.S. television markets. The company has a long history with game shows, as it was a sponsor of many shows including the original "Hollywood Squares."
 Spiegel's involvement with the network includes sponsoring "A Betty White Christmas," a two-week spotlight of game show appearances featuring the veteran actress and comedienne that aired in December. Many of the game shows that included White as a panelist were originally sponsored by and featured products from Spiegel, Lowe notes.
 Product Evolution
To celebrate its 150th anniversary in 2015, the company introduced the Spiegel 60609 sewing machine, named for its historic Chicago zip code. The machine, available in Walmart, features a camera directly over the needle as well as a built-in wireless transmitter, which allows users to send images to any connected device.
 Photos taken by the camera can be shared via the company's social sewing app, available for iPhone and Android devices. "We wanted to create something truly special for our customers, because so many of them are sewing enthusiasts," Lowe says. Owner Lynn Tilton inspired the technology and design behind this joint venture between Spiegel and Universal Instruments. "Moving centennial companies into the future takes monumental effort and extraordinary innovation. I believe Spiegel has accomplished that product leadership with its new sewing machine living up to its history as a company of firsts," said Tilton.
The machine retails for $296, a price Lowe calls "highly digestible" for its customer base. In addition to the machine itself, the company also launched patterns that include QR codes associated with each piece of the garment. When scanned with a smartphone, the user will have access to video instructions that demonstrate how a particular piece is made. The patterns – which have an average retail price of $12.99 – also include trims and buttons needed to complete the garment.
 The sewing machine reflects Spiegel's corporate focus on design and disruption. "If you're not disrupting, no one is going to pay attention to your products," Lowe says.
The company is planning additional product launches in 2016 that include an updated version of the Spiegel Airman, a motorized bicycle originally offered in the 1950s. "We're finding ways to innovate old products," Lowe says. "For us, it's always about finding that next great idea or evolution of an existing product that people didn't realize they needed or that helps their daily lives in a way they didn't expect."
 SIDEBAR:
 A Company of Firsts
During its 150-year history, Spiegel has introduced a number of products, technologies and notable faces to U.S. consumers. "We've launched a lot of brands that people take for granted today," International Creative Director Richard Lowe says.
 The company's innovations include:
 1909 – The company introduces the teddy bear to the American consumer.
1920s – Spiegel introduces a credit card.
1952 – Spiegel is the first company to begin tracking consumer spending habits, with a computerized system of its own creation later purchased by Sears, Roebuck & Co.
1955 – The company is the first to offer tropical fish in the United States.
1957 – Spiegel becomes the first catalog company to visit the Paris fashion shows.
1995 – The company's catalog is the first in the United States to feature supermodel Heidi Klum.
1995 – Spiegel is the first major fashion retailer to join the World Wide Web.
1997 – The company is the first major fashion retailer to launch a digital catalog.